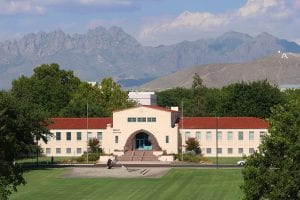 S
Welcome to the Ph.D. program in Kinesiology at New Mexico State University! Our program is centered around the student experience and focuses on individualized one-on-one mentoring. Our program focuses on the research experience and helping students transition into academia. Please contact the graduate coordinator Dr. Christopher Aiken for additional details at (575) 646-1769 or
aiken@nmsu.edu.
Please feel free to reach out to our current Ph.D. students to inquire about the student experience at NMSU and our program.
Areas of Focus
Motor Behavior and Sport Psychology

Biomechanics

Exercise Physiology

 

Physical Education and Pedagogy
 Program Requirements: 
36 credit hours of graduate coursework

 

12 hours of Kinesiology courses

 

12 hours in Research Methodology and Statistics

 

12 hours of Electives (decided on between the advisor and student)

 

24 hours of Dissertation work
S
To view the various laboratory spaces please click 
here.
In addition to the coursework all students must pass a qualifying examination and a comprehensive examination prior to starting their dissertation work.
To see our full catalog please click here 
What do I need to apply?
1. Completed a Master's degree prior to starting course work at NMSU.
2. CUmulative G.P.A 3.0 between all undergraduate and graduate coursework.
3. GRE test results must be submitted but no minimum score is required
4. A letter of support from a potential advisor in the program.
5. 3 letters of reccomendation
 When should I apply?
Students are typically admitted to start in the Fall semester
We currently use rolling admissions. For the best chance of acceptance you should apply early

Application deadlines for Fall admittance is March 1st
NMSU graduate school and funding opportunities
Graduate Assistantships in the department will typically require you to teach two physical activity classes and one lecture based class. You may also serve as a teaching assistant depending on needs of the department. View GA pay rate. Assistantships are a 9-month contract and may be renewed for up to four years. 
If you have interest in working with the Activist Approach to teaching and would be interested in working with physical education teacher educator professional development, inquire to Dr. Oliver

(

koliver@nmsu.edu

) about assistantships in connection with Youth on the Move, developed as part of a grant from Paso del Norte Health Foundation.
S
Graduate assistants receive in-state tuition where NMSU has some of the lowest tuition rates in the country. 
For more information on NMSU Graduate School, click here.